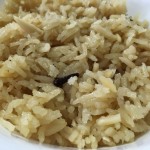 Narali Bhat Recipe (Sweet Coconut Rice)
This is one of the traditional Maharashtrian desserts made on the occasion of Rakhi Pournima or Raksha Bandhan. This festival is also known as Narali Pournima in Maharashtra. 'Naral' means coconut in Marathi. That's why desserts with coconut as one of the main ingredients, are typically made on this day to celebrate the brother-sister relationship. The recipe shared below is very easy to make especially by using a pressure cooker in one of the steps.
Ingredients
Instructions
Wash 1 & 1/2 cup rice and drain all the water.
In a pot, heat 3 tsp ghee(clarified butter).
Add 3 cloves and the pre-washed rice.
Stir fry for some time and add 3 cups of water.
Now cook the rice, either in a pressure cooker for 1 whistle or directly in the pot.
Spread the cooked rice on a plate to cool.
In the same pot get 1 & 3/4 cup jaggery and add 1/2 cup water. Stir and bring to boil.
Now add the cooled rice, 3/4 cup fresh/frozen grated coconut, 3/4 tsp grated nutmeg and raisins to it.
Add 1 tsp ghee, mix well and now keep the pot in the pressure cooker. Cook for one whistle. Once the pressure is released, remove the rice.
Garnish with cashew/almond slices (soak  in water for 1/2 hour and remove peels before slicing) and serve warm.