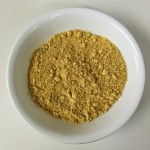 Metkut Recipe
Metkut is a dry lentil powder that is often enjoyed after mixing with hot soft rice and ghee. It is called 'metkut-bhat' in Marathi. It can also be mixed with some yogurt and served as 'chutney' in a meal, to be eaten with roti/chapati.
Ingredients
Instructions
Take 2 & 1/2 cups chana dal, 3/4 cup rice, 3/4 cup urad dal, 7-8 cardamoms, 2 tsp mustard seeds, 1 tsp asafoetida, 1 tsp turmeric, 1/2 tsp sonth (dried ginger), 15-20 black pepper corns, 2-3 pieces of cinnamon each about 1" long, 2 cloves.
Roast each of the above ingredients separately till you get a nice aroma and a light pink color.
Now grind in a mixer into a very fine powder.
To serve, mix well with very soft rice, add some ghee and salt to taste, and serve hot. Metkut can also be mixed with some yogurt and eaten with chapati.