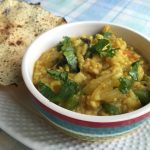 Bishi Byali Anna Recipe
Bishibyali rice or bishibyali anna is a recipe from Karnataka. It is a very healthy and easy to cook recipe that forms a complete meal with carbohydrates, protein, and vegetables. It tastes awesome especially during cold winter days. The masala  called the 'Bisi byali anna masala' needed to make it is also very easy to make at home and can be prepared in advance.
Ingredients
Instructions
Mix 1 cup rice with 1/2 cup toor daal and wash thoroughly. Add 4 cups water and cook soft in a pressure cooker for 1 whistle. Reduce the heat to low for 5 minutes and then turn off the gas.
Soak tamarind, about the size of 1/4th of a lemon in 1/2 cup water.
In a pan, heat 4 tsp oil, and add a. After they crackle, add 1/2 tsp asfoetida (hing), 1 tsp turmeric powder, and 7-8 curry leaves.
Add peeled and vertically cut pieces of one carrot, 1/2 cup peeled and cut pieces of bottle gourd (lauki), 1/2 cup green pepper cut into big square pieces, 1 small potato peeled and cut into big cubes. Add 1 cup water, cover and cook till all the vegetables are soft.
You can add other vegetables of your choice like cauliflower or green peas. (You may also precook all the vegetables in a microwave. In that case, add only the onion to the oil after adding the curry leaves, and fry till golden brown. Then add all the other precooked vegetables.)
Now add the cooked rice and dal to it. Reduce heat to low and add 3 tbsp Bishibyali Anna Masala or Kala/Goda Masala to it.
Add more water if needed.
Now squeeze all the juice out of the soaked tamarind and add to Bisibyali Rice.
Mix well and bring to boil.
Garnish with finely chopped coriander and serve hot.