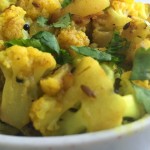 Aloo-Gobhi Recipe (Flower Batata Bhaji)
This Aloo Gobhi recipe is very simple and mildly spiced. It is very healthy with a perfect homely taste.
Ingredients
Instructions
Cut out medium size florets of a cauliflower. Take 2 cups of cauliflower florets.
Peel and cut 1 potato into 1" big cubes.
Heat 2 tsp oil in a pan and add 1/2 tsp mustard seeds. After they crackle, add a pinch of asafoetida (hing), and 1/2 tsp turmeric powder.
Add the potato cubes, turn and cover to cook till the potatoes are half done.
Now add the cauliflower florets, and 2 finely chopped or crushed green chilies. Cover and let cook on a low flame till the potatoes and the cauliflower are completely cooked. Do not forget to turn every 2 minutes.
Now add salt to taste, 1/2 tsp coriander powder, 1/2 tsp cumin powder, and 1 tsp sugar.
Mix well and let cook for 2 minutes without any cover.
Garnish with finely chopped coriander and serve hot with roti/chapati.