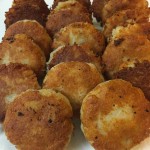 Aloo Tikki Recipe (Potato Patties)
Aloo tikki is an all time hit street food snack of North India. Eat tikkis alone or as Aloo tikki chat.
Ingredients
Instructions
For the Tikki filling :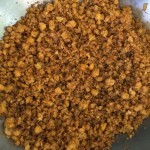 Soak 1/4 cup chana dal (gram) in 1 cup water for 4-5 hours.
Drain all the water and grind coarsely in a grinder or a food processor.
Cook the dal for 15 minutes in a pressure cooker for 1 whistle. Turn off the gas after a whistle and let cool before removing the dal.
Allow to cool and spread in a plate for complete cooling. Break all the lumps.
In a pan, heat 2 tbsp oil and add all the processed dal. Mix well. Add 1/2 to 3/4 tsp garam masala, 1 tsp amchur (dry mango powder), 1 tsp red chili powder, and salt to taste. Mix well and stir fry for 5 minutes on a low to medium flame, till most of the moisture is absorbed. Then turn off the gas and keep aside this filling.
Boil 8 potatoes, peel and mash them.
Take 3 slices of bread. Dip one slice in a bowl of water and squeeze out all water by pressing between palms. Add to the mashed potatoes. Repeat for all the bread slices. Add salt to taste and mix well.
Make 2" big balls with the potato-bread mixture. Take one ball at a time and make a depression in it and place about 1 tsp of the filling. Bring up on all sides and close at the top. Press gently with hands to make fat round balls. Repeat with all the balls.
Frying Tikkis :
Heat a griddle (tawa) that has a concave surface.
Add 2 tbsp oil in the center. Shallow fry all the Tikkis on the griddle, one or two at a time. Every time you add a new batch to fry, make sure that the level of oil on the griddle covers the sides, but does not cover the top surface of the Tikkis.
Fry on both sides till golden brown. Remove on a paper towel to drain excess oil.

To Serve : Serve hot Aloo Tikkis with Sweet and Sour Tamarind Chutney and Coriander Chutney. You may also choose to serve it as Aloo Tikki Chaat.