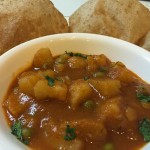 Potato Curry Recipe (North Indian Style)
This potato curry is typically from the Northern parts of India. It is very easy to make and is extremely delicious. Typically served with puris, it forms a quick and satisfying meal.
Ingredients
Instructions
Grind 1 small onion, 1 small tomato, 1" big piece of ginger, and 5-6 garlic cloves into a fine paste using a grinder. Keep this gravy aside.

Peel 4 medium size potatoes into 1" big cubes.
Heat 1 & 1/2 tbsp oil in a pan and add the gravy to it.
Add 1 tbsp tomato puree and stir fry for another minute.

Add the potato cubes, 2 cups of water, 1/2 cup of green peas, and salt to taste. Mix well and cover to cook for about 10 minutes on medium flame.  Stir once in between, till the potatoes are completely cooked.

Remove the cover and reduce heat. Take out a few potato cubes and mash them with the back of a spoon and add them back to the curry. This will help thicken the gravy. Add little more water if you want but do not make it too watery.
Boil for about 2 minutes without any cover and then turn off the gas.
Serve hot with puris or chapatis.