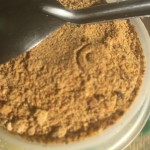 Bishi Byali Anna Masala Recipe
Bishi byali rice or bishi byali anna is a recipe from Karnataka. It is a very healthy and easy to cook recipe that forms a complete meal with carbohydrates, protein, and vegetables. It tastes awesome especially during cold winter days. The Bishi Byali Anna masala is very easy to make at home. Though it is readily available in the market, this home made Bishi Byali Anna Masala recipe adds a wonderfully authentic taste to the preparation.
Ingredients
Instructions
Stir fry for a few seconds, till everything gets coated with oil.
Turn off the heat and allow to cool.
Grind to a fine powder and store in an air tight container.

Use it as and when required to make yummy Bishi Byali Anna!