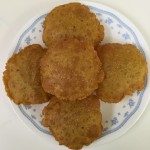 Tikhat Mithachi Puri Recipe (Spicy Poori Recipe)
Spicy puris known as 'tikhat mithachi puri' in Marathi, make a light and yummy snack. You can add some fine cut vegetables of your choice like spinach, fenugreek leaves, dil leaves and so on or some others like grated carrots, grated pumpkin or a variety of gourds, to add a special flavor and nutrition. You may also add some food color or some beetroot or spinach juice to make them colorful and attractive. This is a kid-favorite recipe.
Ingredients
Instructions
Mix together 1 cup wheat flour, 1 tbsp semolina (sooji/rawa), 1 tbsp hot oil, 1/2 tsp carom seeds (ajwain), salt and red chili powder, to taste. Also add some food color (optional).
Use water (or colored vegetable juice like spinach or beetroot juice) to knead into a dough that is harder than a chapati/roti dough but soft enough to roll with no cracks at the edges.
Heat oil in a pan for frying.
Divide the dough into 1" big equal parts. Take one part at a time and roll between your palms and press firmly.
Roll on a rolling board to make a circle that is just about 2 mm thick and deep fry.
After releasing the Puri in oil, it will puff up in a few seconds. Then flip to the other side and fry till you get a golden brown color.
Remove from the oil and place on a paper towel to drain excess oil.
Serve hot with pickle or ketchup.