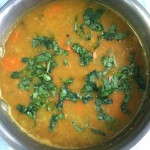 Yield: Serves 4
Prep Time: 20 minutes
Cook Time: 30 minutes
Print
Sambhar Recipe
Sambhar is the most common accompaniment for all the south Indian dishes like dosa, vada, idli or uttapam. If you prepare fresh sambhar masala at home, it will have that unmatched fresh aroma and will taste awesome.
Ingredients
Instructions
Wash 1 cup toor dal and add 2 cups water. Pressure cook for 3 whistles and reduce heat for 5 minutes. Then turn off the gas. Remove the dal after the pressure is released and whisk it with a whisker.
Soak 1"x 1" piece of dry tamarind in 1/2 cup warm water. You can also use ready made concentrated tamarind pulp. In that case, omit this step.
Cook any of the following vegetables of your choice in a microwave - carrots, bottle gourd (lauki/ghiya), okra (bhindi/ ladies finger), snake gourd, or drumsticks. If adding drumsticks, boil 4-5 drumsticks in  1 & 1/2 cups water for 10 minutes. For other vegetables, wash, peel (if needed) and cut into small pieces to make about 1/2 cup in all.
Heat 4 tsp oil in a vessel and add 1/2 tsp mustard seeds. Once they crackle, add 1/4 tsp asfoetida (hing), 1/2 tsp turmeric powder, 4-5 curry leaves, and 1 onion vertically cut into thin long slices. Stir fry till the onion becomes translucent.
Add the whisked toor dal. Add water to get the desired consistency (I added about 1 & 1/2 cups water). Add  salt to taste and some red chili powder to taste (optional).
Squeeze out all the juice from the soaked tamarind and add to the dal. If using the tamarind pulp, add 1/2 tsp. Add 2 tsp Sambhar Masala. Mix well and bring to boil on a medium flame. When it starts boiling, simmer for 3-4 minutes and then turn off the gas.
Serve  hot with Idli, Dosa, Medu Wada, or Uttappa.