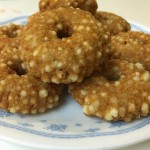 Sabudana (Tapioca) Vada Recipe
Sabudana (Tapioca) vada are tasty crispy vadas, famous in Maharashtra. They make a great snack perfect for the days of 'fast' or 'vrat'. The samak rice used in this recipe are optional to use, but it helps to make the vada crispy. So I usually add it, even if it takes a few extra minutes to prepare.
Ingredients
Instructions
Soak 2 cups tapioca (shabudana) in water for 3-4 hours. The level of water should be just above the level of the tapioca.

Wash 1/4 cup samak rice (vrat ke chawal) and add 1/2 cup water to it.

Keep it on a medium flame for boiling.

Once the water is used up till level of the rice grains, reduce the heat to low and cover to cook till all the water is absorbed. Then turn off the gas and keep aside. (This procedure to cook samak rice is the same as we cook common white rice)

After 3-4 hours, the tapioca absorbs all the water and puffs up.

To the puffed tapioca, add the cooked samak rice prepared in step 4.
Boil, peel and mash 2 potatoes and add to the tapioca. Add 2 cups roasted peanut powder*, 4-5 crushed green chilies, salt to taste, and 3 tsp sugar.
Mix well. Add little water and knead gently to make it like a dough.

Take little dough and shape into round balls with hands. Press to flatten a bit and make a hole in the center with one finger.

Use the rest of the dough and shape all the wadas as in step 9.
Heat oil in a pan for frying. Deep fry all the wadas on medium heat till a nice golden color is achieved.
Serve hot with peanut chutney.
*Roast peanuts in a pan on a medium flame, till some black spots start appearing on the outside. Let cool and then crush a little with hands to separate peels. Blow away the peels and grind the peanuts coarsely.